Quick idea: Preferatele lunii Iunie
sâmbătă, iunie 28, 2014
A trecut deja luna Iunie?
Desi sunt in vacanta de aproximativ 2 saptamani, aproape ca nici n-am simtit ca s-a terminat facultatea. O fi de la vreme, de la faptul ca nu s-au afisat inca notele sau ca n-am apucat sa ma bucur de o cinste in oras...cert este ca am senzatia ca maine-poimaine trebuie sa o iau de la capat. Ceea ce e oarecum adevarat, daca stau bine sa ma gandesc. xD
Vara asta am decis sa dau in sfarsit de carnet. Ma ia cu panica cand ma gandesc ca voi fi la volanul unei masini, insa daca nu o fac acum, nu o voi face niciodata. Vreau sa fiu independenta, sa nu-l mai rog pe al meu sau pe tata sa ma duca la cumparaturi, petreceri sau intalniri cu amantul. xD Va sugerez deci, sa va echipati corespunzator si sa va feriti din calea mea.
Dar haideti sa sarim la preferate, caci avem multe de discutat.


Fondul de ten
Adaptive de la Giordani (Oriflame)
este o iubire mai veche pe care am redescoperit-o de curand. Obisnuiam sa-l folosesc in liceu si imi placea la nebunie faptul ca imi facea pielea sa arate bine, dar intr-un mod natural, sanatos. Il cuplez cu pudra
Illuskin de la Oriflame
pentru un plus de acoperire si rezistenta. Daca vreti un review si eventual o poza cu cele 2 parti in actiune, do tell! :D
Am avut o perioada in care nu am mai folosit
plasturii pentru puncte negre de la Beauty Formulas
, insa odata cu venirea caldurii porii mei au luat-o razna. Arata ca niste mici mine care stau sa explodeze in orice moment. Din acest motiv este nevoie de interventie, ca nu vreau sa izbucneasca un al treilea Razboi Mondial pe mutra mea.
Parul meu se bucura de ultimii stropi din
mostra Morrocanoil light
. Folosesc acest tratament de luni de zile, insa am zis sa il includ in preferatele lunii iunie ca un fel de ramas bun. Asa ca farewell dead friend, you will be missed! Ne vedem in toamna, la reduceri. :D
Odata cu cresterea temperaturii, se cere si expunerea cracilor din dotare. Din acest motiv Anca a inceput sa se dea cu
bodi loșon
, pentru un plus de catifelare.
Dove
este intodeauna pe lista mea de cumparaturi atunci cand am avut nevoie de produse de corp, asa ca iata lotiunea lor printre preferatele mele. :D
Cred ca postasul ma uraste desi am grija sa-i las cate un leu-doi ori de cate ori vine cu un colet. xD Am comandat foarte multe chestii de pe ebay in ultima vreme, iar ceasul din imagine este un chilipir descoperit de mine in urma cu cateva luni. Aveam dubii in privinta lui, insa in cele din urma l-am comandat si este superb. Cred ca este o copie a unui ceas Michael Kors.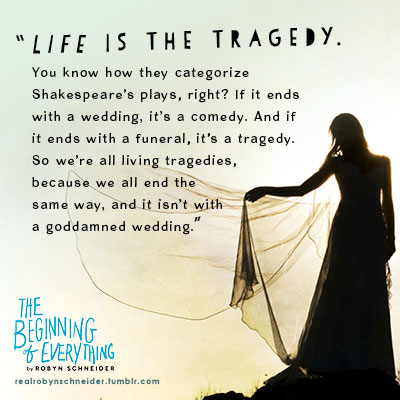 De cand mi-am tras tilifon cu ecran mare, ma binoclez intr-una la carti in format electronic. Nah, ce sa-i faci, daca n-ai bani sa cumperi 2 coperti si cateva sute de pagini, recurgi la alte mijloace. Imi place sa citesc inainte de culcare, dupa ce dau tura obligatorie de instagram. Imi mai ia gandul de la mancarurile pe care le posteaza unii.
Cartea
The beginning of everything
a fost recomandata de Ingrid (missglamorazzi) si este lejera, numai buna pentru o lectura de vara. Nu cred ca exista o varianta in limba romana, insa nivelul nu este chiar atat de ridicat si oricine stie engleza de baza se va descurca.
Personajul principal al romanului, Ezra, crede ca toti vor trece la un momentat printr-o tragedie care le va schimba viata si-i va face sa pretuiasca lucrurile mici. Asta i se intampla si lui, cand de la baiatul popular, cu un viitor stralucit in tenis ajunge un outcast.
Luna aceasta am devenit obsedata de canalul de youtube al lui...Claire Marshall!
Claire a trecut prin multe obstacole de-a lungul vietii ei, fiind lasata la varsta de 7 luni pe treptele unei cladiri din Seoul, Coreea. O americanca a adoptat-o si a crescut-o singura, cu multa dragoste, pana de curand cand a fost diagnosticata cu simptome de dementa si a fost internata intr-un centru specializat. Din cate am inteles, aceasta ar fi avut in trecut si cancer la san. :(
De meserie Claire este makeup artist, iar la prima vedere poate parea o fata rea, insa nu este deloc asa. Este amuzanta si plina de viata, in ciuda problemelor pe care l-a infruntat. Pentru mine este o gura de aer proaspat de la toate papuselele acelea care fac ca totul sa para perfect in filmuletele lor.
Melodia pe care am ascultat-o de mult prea multe ori in luna iunie ii apartine lui
Linsdey Stirling
. In timp ce invat, imi place sa-mi pun muzica ambientala, sa-mi tina de urat. Aceasta melodie imi face pielea de gaina si o ador pur si simplu!
Filmul meu preferat este cu sigurana
Lego Movie
. Este atat de ciudat, intr-un mod hazliu. Este plin de clisee, de personaje fara vreun scop clar, dar are si o gramada de momente amuzante plus...primul magician negru! xD Nu este la fel de serios ca Gandalf sau Dumbledore, insa vocea lui Morgan Freeman ma unge pe suflet.
Finalul filmului era usor de ghicit de pe la jumatate, insa asta nu m-a oprit sa savurez fiecare minut al actiunii.
Si iata-ne la finalul postarii. Sper ca nu v-am plictisit si ca veti dori sa ne vedem si luna viitoare in acelasi loc, la aceeasi ora! :D Va pup dulce.